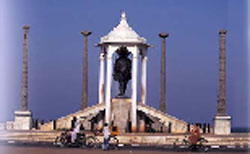 Pondicherry - the undiscovered land. Welcome to the land of Aurbindo Ashram, the serene world of enchanting backwaters and lagoons and a palace reputated in the tourism world as the land of Dawn. Pondicherry renowed as Pondy among tourists sums up the shared felling of belonging , of having come home. Pondicherry welcomed the tourists with its dream like tranquility at its sea beaches that relieves the people from stress and fatigue. Pondicherry is also known for its distinct spiritual vibration from the early days and thus renowned as Sacred Land. So , just forget eveything and have the time of your life in Pondicherry.
Auroville
Auroville is everything it is called - "The International Township of Harmony", and more. Based on the concept of the Mother, it is an entirely independent multi-racial community, which works and lives in self-fashioned, wildly original homes.
Aurobindo Ashram
The ashram culture is all pervading in Pondicherry, within homes and shops and all over. Largely, through the everywhereness of two charismatic portraits. One of Sri Aurobindo sometimes pictured as an earnest young man and more often as a serene sage. ...more about Aurobindo Ashram
Beaches of Pondicherry
The beach comber and the sun-worshipper have miles of "nirvana" in Pondicherry. The waters are cool and soothing. The sand's clear and sparkling, in splendid seclusion. more about Beaches in Pondicherry
Yoga and Meditation
There is an air of spirituality in Pondicherry that comes on strong. Even since the revolutionary-turned-'Yogi' from Bengal, Sri Aurobindo, settled here, peace-seekers from all around the world have beaten a track into Pondicherry. ...more about Yoga in Pondicherry
International Yoga Festival
Yogis and Yoginis from the world over assemble in Pondicherry from the 4th to the 7th January every year. Through live shows and talks, through the display and sample of the varied yogic food and through Indian dance and music, they keep alive the art of yoga, its science and its philosophy.

Excursions from Pondicherry

Pondicherry is not only about Aurbindo Ashram,serene beaches and backwaters but it offers a wide array of options for you like Chunnambar known for spectullar backwater front and Arikamedu and Mahabalipuram temples.
Chunnambar (7-km)
Like to Swim, row a boat, or simply watch the sunrise and picnic at the beach, or go trekking, or feel comfortable on a tree house?
Mahabalipuram (98-km)
Located at a distance of 98-km from Pondicherry, Mahabalipuram has everything that makes a site memorable; tradition, history, piety, western annals, and current importance as a centre of tourism.
Karaikal (132-km)
On the coastal Bay of Bengal close to Tanjore of Tamil Nadu is Karaikal - earlier it was part of the Tanjore district.
Kancheepuram (130-km)
Kanchipuram is a small, rural town about 130-km from Pondicherry in the state of Tamil Nadu. With the Sankara Mutt acting as the hub of Hindu activities and the temples, Kanchipuram is one of the most highly visited pilgrimage spots in India.