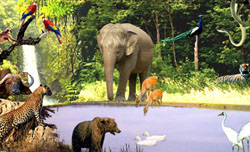 The Mudumalai wildlife sanctuary is located where the Nilgiri Hills, the offshoot of the Western Ghats meet the Eastern Ghats. The Mysore - Ooty highway runs through the sanctuary, following the course of the Mayyar River, which separates Mudumalai from Bandipur.
This 321-sq-kms wide sanctuary encompasses a National Park measuring an area of 103-sq-kms. The sanctuary has varied mixture of flat land, open grassland, swamp and valleys. Apart from the wide range of animal and bird life, the rich fauna of this sanctuary has made Mudumalai very popular with wildlife enthusiasts.
There are tigers at Mudumalai, though it takes a lot of luck and perseverance to spot one of these big cats that are such masters of stealth. But there are several other creatures of the jungle that can be sighted more easily.
Flora
The vegetation is quite varied in this region. The hilly terrain of the Western Ghats, clothed in dense mixed and moist deciduous forests, make Mudumalai (the ancient hills) a most attractive wildlife reserve. Bamboos (Bambusa Arundinacea) Natural teak (Tectona Grandis), Anogeissus latifolia, Terminalia, Crenulata/Terminalia Tomontosa, Grewia, and blooming trees like Indian Labumusum, Aredesia, Solanancea are some of the flora.
Fauna
The fauna include Elephants, Gaur, Banner, Macaque, Common Langur, Tigers, Leopards, Chital, Panther, Sloth Bear, Python, Barking Deer, Four Horned Antelope, Otter, Crocodiles (Mugger), Giant Flying Squirrel, Sambar, Hyena, Wild Dog, Wild Boar, Mouse Deer, Spotted Deer, Jackal, Hare, Porcupine and Mongoose.
The birds listed in this sanctuary are Peacock-our National bird, Grey Jungle Fowl, Red Spur Fowl, Grey Partridge Quails, Goggle Eyed Plower, Malabar Whistling Thrush, Large Racket-Tailed Dronge, The Magpie-robin, Spotted Babbler, Small Green Barbet, Green Pigeons, Brown Dove, Malabar Grey Hornbill, Bulbuls, Mynahs, etc. Among birds of prey, Eagles, Hawks, Buzzards, Harriers, Falcons and King Vulture are predominant, besides some migratory water birds.